A Message from God
.Author : Retha and Aldo McPherson
.Publisher : Destiny Publisher Inc., PA, USA
Are you sold out to God? Is God still your first Love?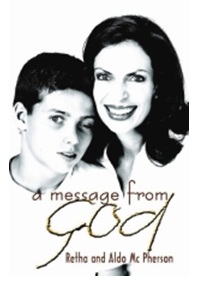 Or
You are merely living a good life filled with good deeds but really do not know God's character and have no idea what it really meant to completely sold out to Him.
This book will challenge you. When Aldo McPherson, a 12 year old boy, met with a car accident and was left in coma in the hospital, he had a supernatural experience with God and went to heaven, saw God, the Angels, Moses and Abraham.
Aldo came back with one message: Jesus is Alive.
As he could not speak because of injuries, Aldo wrote lots of letters, sometimes daily, to express his heavenly experiences and insights provided to him by Holy Spirit. This book is not merely a book but is a message straight from the heart of God to His every child.
Filled with scripture reference and direct quotes from Bible, "A Message from God" will ignite the fire of holy spirit in your life and bring you closer to God. Aldo's original letters in his own handwriting give a sense of authenticity that is rarely found in books based on miracle stories.
My recommendation: I believe this book will utterly saturate your life with God, help you to receive the fire of Holy spirit and experience of fullness of God. The principles that are laid out in this book not only elaborate what Aldo has written in his letters but also serve as a guidelines for every believer who desires closer walk with Lord Jesus.
A must read for all believers.
I pray that as you read this book, the spirit of God within you will awaken and you will feel His fire in you and will have a loving relationship with Heavenly Father
..Next month's book ................................................Previous month's book