Praise reports
On this page, we publish praise reports of miracles and answered prayers..
If you have received answer to a prayer request or a miracle in your life, please share it with everyone by sending us a Praise Report to encourage others in their faith!
Thank you, Lord !!
Dear Brother, Greeting in Jesus name
My daughter finished her B.Sc. Agriculture degree course in first class. We thank you for your prayer and support.
My son doing 12th std. Pray for son health and studies. We thank your for my daughters prayers.
Thanking you very much.
Prabhu Issac (India)
Mona & Bhupinder Singh, God bless you abundantly for standing with me in prayers. God has answered my prayers and I got a new appointment and opportunity to work in a different company. First it was unexpected call, I tell you, I have seen God's hand. Pray with me for His hand of Mercy and grace to sustain my new path. I tell you, our God is faithful.
Lydia (Kenya)
Hi Paster ji
Me and my brother passed with good marks in our final exams. This is the result of your prayers. All thanks and glory to God.
Azam (Canada)
Thanks for prayers, our daughter is blessed by a daughter today and both are fine. All glory belongs to Him !!
Sona (Canada)
Quite a while ago I ask for prayers for my daughter and son in law.
Thanks to Jesus Christ the family is united and living together with their children.
Praise and Glory be to His Precious Name.
Thank you all for your answered prayer.
Sincerely,
Ernest (Canada)
This is a praise report Giving Glory to God for giving me strength back in my body thank you all prayer warriors and thank you Jesus!
James & Alicia
Dear brothers/sisters,
I had written to you long back regarding my father's I'll health & had requested you all to pray for him. I'm glad to inform you all that our dear Lord Jesus Christ has indeed blessed & healed him of his cancer. The PET scan that we did a couple of days back showed evidence that the cancer mass has nearly resolved. His pain, discomfort has vanished completely. The purulent cough that he was suffering from is also under control. Abundant praises & glories & thanks to you O lord for being with us every minute, every moment. I also thank every member of my prayer house team for praying for my father and asking God's glory for him. Jesus Christ will definitely bless you all abundantly for the wonderful work. I remember Jesus's promise to us all which so very true...."Come to me, all of you who are weary & carry heavy burdens, & I will give you rest".
Once again, thank you all, may god bless you.
Deepti (India)
Hello Bhupinderji & Monaji,
We really appreciate for all your prayers. By the grace of God Anjali is feeling much better now. Hopefully the ultrasound results will come up by the end of this week & we ll update you. We have full faith in our Lord God & we know all is well by His grace. Our son is also in remission of the relapse as we talked about.
Rajinder (Canada)
Praise the Lord Brother.
Greetings to all prayer warriors of this group in the name of our Lord and saviour Jesus Christ.
First of all I am sorry in delay to share my testimony.
God answered your prayers. My job got confirmed and the work place is also very much comfortable by God's grace. God also using me here to share the gospel with my colleagues. Please continue to pray for me about my colleagues salvation.
Thank you.
Veerla Pallavi (India)
Dear bro in Christ,
Praise the Lord. ow are u and all. Bro, My son got 472/500 marks in 10th std.
We thank you for Jesus and u and your prayer support. I thanks to ever and ever your prayers. Now he joined 11th std.
Jesus bless my son with your prayer.
Convey my regards
Thanking u
Prabhu Issac (India)
Dear Mona & Bhupinder Singh and HIS ePrayer Team,
I would like to thank you for your prayers and being there for me when am going through so much.
Thought of sharing my blessing and answered prayers in my past requests. My mum is healing well on the hypertension she has had, my brother got married and is happy in his family. One of my sisters has gotten a job and my husband's new business has picked well. May Almighty God bless you abundantly. Pray with me for my other sister to get a job and for me to receive a positive response of the interviews i have attended in the past. They were to get to me not long time, but am getting anxious because its taking long than expected.
Thanks
Lydiah (Kenya)
Dear brother I want to thank all prayer group as my daughter got married
Thanks
Sona Bhatt (India)
Dear Bro. Bhupinder & Sis. Mona,
Praise the Lord, we serve an awesome God!
The Lord answered prayer for my mother who had right knee replacement surgery. She was not able to eat and retain solid foods for 4-5 days after surgery. Soon after sending the prayer request, my family informed me that she was able to swallow and retain the foods she is eating. Glory be to God. I thank you and all partners for upholding us in prayer at this time.
Please continue for her complete recovery and strength to be restored.
Thanks,
In His Name,
Arun Samuel (USA)
Dear Bhupinder bhai and Mona ji,
Praise the Lord Jesus.
Thanks for your prayers and every body who prayed for Amaya. God did amazing miracle. God supernaturally arranged the finances for surgery and provided best hospital and neuro surgeon and all arrangements were done by His grace. Her surgery was done successfully. Surgeon told my family that tumor has been removed and she is now in stable condition in ICU and today she recognized her parents as soon as she became conscious.
Lord Jesus is our healer and He has done miracle for this child.
Thanks again for every body's love and support in this difficult time.
Adil (Canada)
Dear Prayer Partners,
Our Lord Jesus Christ, He is only God who hears the prayers of his servants and answer it, All praises to his Holy Name. The day following the request were sent out, she was healed.
No pain and feeling very well too. Ephesians 3:20 Him that is able to do exceeding abundantly above all that we ask or think, according to the power that worketh in us.
Thank You JESUS. I thank you all too for upholding Her (Thaya Stephens) by prayers.
Your Bro in Christ Jesus
Ernest Arulcheyan
Dear Mona baji and Bhupinder bhai,
Thank you for your prayers and standing with us for my niece. She is feeling much better and is back at home today.
The batteries had been switched on but still prayers are needed for her healing and for fixing the frequency and electrodes. The neurosurgeons are still working to get better results.
Thank you once again and God bless you.
Regards,
Affia (Canada)
Hello Bhupinder,
I just wanted to let you know that dad is out the ICU and out of the hospital. He is in rehab now. He is doing fine. He should be home by Christmas.
Josephine (Canada)
Hi dear all...... I had written to you for a prayer request some time back. And i would thank each and everyone for praying for my parents and my family. God has already started working into our lives and taking away all our worries and tensions. Things have slowly started falling into place. My parents are also feeling better. The tensions and frequent quarrels that we were experiencing for a long time are slowly dissolving. I'm extremely grateful for your intercessory prayers. May our lord bless you all abundantanly and give you all a long life of happiness, prosperity and good health. May you be a ray of hope to all the depressed souls out there looking for some comfort and blessings from our lord.
Deepti (India)
Hello Bro. Bhupinder and Sister Mona,
I would like to thank and praise the Lord for his mercy in answering my prayer request recently for our family gathering on August 8th. It was a blessed and peaceful gathering among our family members.
We thank and praise God for your prayer ministry and all the saints for lifting our needs before the throne of grace.
God bless you and the ministry,
Bro. Arun (USA)
Thanks Mona & Bhupinder Singh for standing with me in prayers. I thank and glorify God for you. God bless you abundantly.
I previously asked you to pray with me for my brother Malack to get a wife to marry and turn to the right birth he has grown all his year. Thanks be to God he has identified a good lady to marry. Pray with me for their journey in preparation of wedding plans!
My mother who was sick of hypertension is doing great! Pray with me for her complete recovery in Jesus name.
God bless you and all the partners who stood by us in Jesus name.
I Am still experiencing a lot of obstacles at my place of work but our God is Faithful and my prayer is that He will see me through soon.
Love you all
Lydiah (Nigeria)
Hello Mona & Bhupinder Singh,
My husband Melwyn has come home and pray for him that he may serve the Lord for ever.
Thank you
Lucy (India)
Praise the lord, Ii thank my Lord almighty and all the prayer warriors around the globe from the bottom of my heart as they were praying for my daughter's studies as she has now decided to join summer school again and there is a change in her behaviour too. All glory and honour goes to my Lord almighty. Please keep her in prayers for her further studies and her behaviour. Thank you very much and god bless you for your support and encouragement.
Shalu (Canada)
Thanks for prayers, now my sister in law sits for short time and talks sense but do continue to pray for her.
Sona (India)
Hello Sister-&-Brother-in-Christ Mona & Bhupinder Singh,
My daughter Benita's headache has reduced to a very great extent but not completely but I believe for her complete healing in Jesus name Amen. Now since two months her back has also started paining continuously. Request you to keep her in prayers as this year she will be in 10th std.
Thank you & God Bless you
Regards,
Lucy Mascarenhas (India)
Hello Bhupinder Ji,
I hope you both are doing well. As per my last conversation, letting you know that by the grace of Jesus, I have received a job offer with TD. Thanks to everyone who prayed for me. I went through a very difficult time when with 4-5 months of being in my past job, which was very stressful, they terminated my employment. I was unhappy there but at least it was a job. In Canada it can be a challenge to find employment. But after about 4 months, God blessed me miraculously with this job. I pray that this be an encouragement to anyone in Christ who is going through a difficult circumstance in life.
Thank you again for remembering me and praying for me. Please continue to keep me in your prayers for wisdom and patience in my personal and professional life.
Amrita (Canada)
Good evening Bro Bhupinder,
Many thanks for your group and personal prayers. Josephine is now out of ICU and recovering at home.
Rao Jillepalli (Canada)
Dear Prayer Partnes
Greetings from New Delhi. We are very grateful to our Lord and Saviour Jesus Christ for listening our earnest prayers and ansering them. I had requested to pray for my younger sister who has udergone a surgery due to utrise problem. I praise and thank God for listening our prayers and she is out of Hospital now and keeping well. I thank God and each one of you upholding her in your prayes. May God bless you.
Brother Robin and sister Kabita (India)
Dear Brothers and sisters in christ
In the year 2014 I had mailed you all to pray for me. That 1) I should get a job and 2) pray that my husband realises that we both are aging and need to plan a baby.
Thank you all for ur prayers, in November 2014 I got a job and it's over 2 months now since am working.
Also please pray specifically in the first week of February 2015 when I do my pregnancy test, it will.be positive. Sorry for conveying my job news so late bur I believe that the prayers of all God's warriors won't go in vain and in Feb 1st week my result will be positive. I will mail u asap once I get the results so we all together rejoice In the Lord.
Thanks once again
Mrs Rock (India)
Hi Bhupinder
I want to let you know that I am feeling much better. The pain is very much reduced, and I can do almost everything that I used to do before. Thank you for praying for me.
Linda (Canada)
I am very thankful to God and to your team for always praying for me. My prayer requests are being heard and fulfilled by God. I recently had a problem in my relationship and it was about to break but my Lord helped me so I am very thankful to him and you guys also.
Nupur Perry (India)
Dear Mona Ma'am,
Greetings in the name of our living Lord Jesus Christ.
I want to thank you very much from my heart for your prayers and concern. I am so glad and happy to share a great news with you. By the grace of God I am getting married to a very nice man on this Friday aka 28th November. He is the most amazing gift that God has given to me. I have never thought that I will ever meet a person who is so loving, caring and understanding. His family is also very nice and loving. I really thank God and all praise be to him that he showered his abundant blessings on me.
By this time, I learned how God works and how he stops us from choosing a wrong path. In my life, this miracle has happened. God has continuously stopped me to go on the wrong path and brought me back on the way he has chosen for me. As a human we can never understand why something happened but God does understand that very well and he never leaves us even if we forget him many times. I don't have words to express my gratitude to Lord Jesus.
Again I want to thank you and His Prayer House team for all the prayers for me. May Lord God use you to save more lives and people like me.
Ujjvala (India)
Dear prayer partners we thank you for your prayers it is great news Arooj's heart operation has been done on 10 Nov. 2014 and new she is improving very quickly . All glory to the Lord God
Athar Javed (Pakistan)
Thank you for your prayers . My maid is healed in Jesus mighty name ! Amen !!
Lucy Mascarenhas (India)
Praise report : i would like to thank the prayer partners for praying for the request because i got the new home and God provided the money to buy it praise God for the blessing.
Bro. Himmat Singh (India)
Dear prayer partners we thank you for your prayers We have got the franchise of a Canadian store for which we requested prayers Kindly still keep us in your prayers Thanks
Sis. Sona Bhatt (Canada)
Dear Prayer Partners,
I praise God and thank you for the healing of my wife Kabita from he Cervical Spondylosis. She is much better now. Thank you for your continuous prayer support and thank God Who listens our prayers daily for various needs for people through the Prayer House. Please continue to pray for Laby Lewis in CM C Velloor. May God bless you.
Bro. Robin Sahu (India)
Dear Bro. Bhupinder & sister Mona,
Thanks for the encouraging email.
I have a praise report for my recent prayer request about my wife Priya's mammography. The results came out clear. My wife and I are relieved and happy. We thank and praise the Lord for hearing the prayers of our team. We thank you and the prayer partners for holding us up in prayer.
Thanks much and may the Lord use your ministry mightily in the days to come.
Bro. Arun (USA)
Dear Prayer warriors!
Thank you for your prayers. About a month ago I had requested for the financial provision of $1500 USD for my trip to Jordan to see the holy places and thank God by His grace I have received the assistance in full. God is great.
Pastor Zeeshan Robert (Pakistan)
I am better now & back at my ministry station. Thanks for all your love, support & prayer.
Blessings
Pastor Rohit Mattoo (India)
Thank you brother Bhupinder. My daughter is on new medication and is feeling a little better. Praise the Lord and thank you very much for your prayers. I will update you as she continues to improve and gets healed.
Blessings.
Pastor Narendra (USA)
As you all stand for me in prayer to fight out the injury I got in my leg due to an accident. BY YOUR PRAYER SUPPORT I got healing. I give thanks and honour to our almighty God. Amen
Linesh Renny
I just want to thank God first and all of you who prayed for me for my course which I was stuck for over a year and was desperate to finish; through your earnest prayers I did the pass that course.
Salomi (Canada)
Dear all,
Thanks for your prayers for me, did my exam well, got my 10standard result today, got 88%, was expecting more, but could get this much only. god was soo good, inpsite of missing classes due to sickness etc., came out with distinction. Thanks and for all your prayrs.
with love and prayers.
Abigail Ganesh (India)
Dear Bro Bhupinder,
Thanks to your prayers and prayers of your prayer team, Annie Tella is improving after her two operations.
She is still in ICU at Mount Sinai Hospital in Toronto.
Kindly circulate this prayer request once again so that she may receive complete healing prior to Easter.
Nageswar Rao (Canada)
Dear Mona & Bhupinder Singh, I would like to thank you for your prayers. Maybe i can summarise where am coming from, late last year i was down and really needed your prayers to get another job i have been looking for sometime now. My organisation was also going through restructuring process where half of us were already given redundancy letters meaning that we didnt fit anywhere in the new organisation structure.
With me i had gone through so much stress and strain till yesterday. I would wonder what i would do with all the dependants i have. I had to give you a call as i needed someone to talk to me. Thanks so much for always responding to my mails and phone call. God bless you. During the interviews 1st thing i had lost my presentation from my flash disk, i was even shaking during the written interview-i whispered a prayer to God telling Him if He is with me, id doesnt matter how i perform, I WILL SURELY GET THE POST. I remembered David the king on how he was appointed. At that moment i felt God's joy!!
As much as i had not seen any suitable post for me in the new organisation structure, i did not perform well in written interview, you know what!!! Yesterday the news was announced.
I got it; programmes contracts manager post! i cant believe it. My God is great than anything. Its like a promotion and much higher than i would think of.
Pray for me for God's wisdom, knowledge and strenghth to carry and perform the roles expectations.
Love you Good brothers and sisters in christ, Always remember me in Jesus name i can do everything through christ who strenghthens me.
Lydiah Manoti (Nigeria)
May God richly bless you for your prayers for me and my family. Through your prayers God has blessed me with a new job offer from a former employer offered to me on Monday, 1/13. I accepted on 1/14 and will start the first week in February. This means I will not have to re-locate now and takes off the financial pressure and allows me to retire with a time frame to our own choosing....... I had a gallbladder scan done on 1/13 and it's function is improved 18%. Praise the Lord. I am asking God to continue the healing of my gallbladder and increase its functionality but after this improvement it is now in the low range of normal.
Gregory (USA)
Praise the Lord.
Thx to all my friends in Jesus.
I am better now and have to continue my meds for another three weeks.
Thx everyone for blessing me.
Rachna (Canada)
Dear brother Bhupinder Ji and Mona Ji,
Thanks for your prayers and thank for all who prayed for our daughter Hannah. The operation was successful and today she got discharged from the hospital and she is better now. Please pray that she will get her strength back soon. Thank you once again and all glory to God who is our Jehovah Raphaa the Lord who heals and by the Stripes of Jesus Christ we are healed. God bless each and every one of you and especially Bhupinder Ji and Mona Ji.
With love and prayers
In His service
Pastor Shard (India)
Dear sir and ma'am,
I thank Jesus FOR BOTH OF U- we went today to the doctor and he looked at us as if we were silly- your daughter doesn't have a thyroid problem ! Thank you and the nameless, faceless faithful flock who prayed for our child and us.
Angeline
Hello I thank all who prayed for my neighbour who was sick and were not able to walk we thank God as he has started walking and other activities too..
Sona (Canada)
Dear Mona & Bhupinder Singh and HIS ePrayer Team,
I would like to sincerely want to thank you for this programme which is uplifting and inspiring. Since i made a decision to join the His ePrayer team, i have actully seen God in my life and in the life of those i love.
Thanks again, i would like to share my last week testimony. I was fasting and praying over lunch hour from Monday to Friday. Three things happened: my husband had a get through a business contract we have been waiting for which is worth millions, i also have been praying for for Richard Evans, who has never had a job for the last 3 years, for sure, i came to know Richard (via e-mail) 2 months ago-He is my husband's friend. Surely God is faithfully, when he had given up completely, he would not afford even paying rent and feeding himself, he got a phone call on Wednesday last week, offering him a job at our place of work. Praise God, i was so touched and even cried. God is faithful
Lydiah
Dear Brother
I wrote for your prayers for a Punjabi lady and have been guiding her. My wife and myself were earnestly praying for this client of mine. Thanks for our prayers God has done a wonder in her life. I replied to her yesterday with a few Bible verses as per her request.
Rao (Canada)
Hello
Thanks for the prayers for our daughter. She got Canada P.R. for which we praise God and thank all who prayed for our request.
Still we request to pray for her marriage and her settelment in the new country.
Sona Bhatt (India)
Dear Sis Mona & Bro. Bhupinder,
Thanks to you and your prayer team for the prayerful support - I had asked for prayers for my nanand Ms. Sumathi. All of us wre very tense about the biopsy report taken from her shoulder. She had multiple lymph nodes which were growing big and painful. Doctors were unsure inspite of several tests etc. and suspected malignant cancer. Only our Lord healed her. The biopsy report turned out negative. Praise the Lord. My husband was greatly relieved.
I am deeply grateful for the Lord's intervention. Praise be to the Lord a million times.
I had also requested prayerful support for the Lord's intervention in the lives of my brother and his wife. My brother was not allowing his wife to keep in touch with us or with anybody else. I felt very bad for her and kept praying for her to be able to visit us. God in Hs great mercy heard the all our prayers and she has been contacting me over phone and with His Grace we shall be meeting each other and also her only brother after a gap of 14 years.
Praise be to the Lord.
Meera Kumar (India)
Praise the LORD.
Jesus gave me Job in VISAKHAPATNAM STEEL PLANT. God heard all our prayers from all directions and did this wonder work. Our God is wonder working God. I thank all who prayed for me so.
Next I request to pray for my marriage.
Hoping you will continue so...
Yours brother
Jeremiah Levi (India)
PASTORS / BROTHERS AND SISTERS
PRAISE THE LORD, greeting you all in the sweet name of our Lord Jesus Christ
I want to say thanks to all of you for your kind & loving prayer for my court case . God has answer yours prayers on 25th september 2012.
God giving me victory on my court case . My Lord is always with you all. He will bless you in a mightly way
please pray for me & for my family & ministry, Thank you, GOD BLESS YOU
Pastor Arthur Cocker (India)
Dear Brother,
I had requested you to pray for my wife Jennifer, God has answerd our prayers and blessed my wife with the post of principal in a School. I humbly want to thank you because it was possible with our joint prayers
Bro. Ashok Kumer (India)
Hello Brother & Sister
I had sent you an e-mail about a my friend named Frank Short. He was on his death bed and now doctor's say he has made a remarkable change & recovery.
Thank you so much & your team
Bro. Tyrell
Dear Sis Monaji and Bro. Bhupinderji,
I want to thank Lord Jesus for both of you. Its such a comfort to have both of you and your team praying for others needs.
Besides being grateful to the Lord, I want to thank you for praying for my requests. The Lord has been very gracious and my jijaji who had to undergo a operation for a crooked bone obstructing his nasal track, now need not go in for an operation according to the advice of a doctor out of some many doctors they have seen. My jijaji was not keen and very scared and worried about undergoing an operation. After sending a prayer request to you and your team, he need not undergo the same. Praise the Lord.
Sis. Meera Kumar (India)
Dear brother/sister,
Greetings in Jesus' most precious name. I am glad to tell you that I am awarded International Student Scholarship at Dallas Theological Seminary, Dallas, Texas, USA to do M Th. First of all I am grateful to God for this wonderful provision. I would like to extend my gratitude to you for your constant prayers and encouragement.
I am awarded $ 23, 050.00 for the first year to cover first year tuition fees and living expenses of myself. Still I need to prove $8,688.00 to cover the living expenses of my family for the first year. I request you to pray that God would provide this financial need.
After receiving I-20 document I shall apply for Visa. What I understand is that getting US Visa is not an easy task. Therefore I request you to pray that God would open the doors for visa.
Bro. Madhusudan (India)
Beloved
Praise the Lord, God is good all the time. Jesus answered our prayers.
I was asked prayers for my Dad (Rev. K.Samuel) healing for Adenocarcinoma. Last month Doctor's decided (said) by the medical reports my dad had Adenocarcinoma and started treatment and they gave him 6 times radiation treatment and again after couple of test and they said its not Adenocarcinoma and they said small tumor at thyroid gland which is not cancer amen. Our awesome God healed my Dad miraclesly, HE healed him put aside the cancer from my Dad's body Amen. Thank you so much for your prayer support. He is going to take a treatment for thyroid problem from the month of April. Please lift him up in your prayers for his treatment.
Pasor Sam (India)
Dear Loving Brother-in-Christ,
At the out-set I thank for your fervent prayers in the past, whenever I requested.
I wish to share a good news. I had requested you to kindly pray for my son's early marriage, our wonderful Lord heard the prayers you offered at the feet of our Lord and Saviour Jesus Christ. God answered our prayers and brought a beautiful only girl from Mumbai based Christian family. She is a Bsc. Nurse from a very reputed Hospital in Mumbai, who studied in the same Hospital College. I pray for your wonderful ministry that our Lord has given to you. I also pray for your family and the Ministry. God will surely bless you with many miracles that you asked to our Lord Jesus Christ.
Elson V. (India)
Dear brother & sister, PRAISE THE LORD !
I am delighted to share the news that my brother-in-law Manjeet Singh (who is in Italy and was diagnosed as HIV+) is now fine. As soon as you both prayed for him, he recieved the peace from the LORD and strength. During his last visit to hospital, doctors has found him without any trace of this disease. Thank you Lord for listenng to our prayers !!. Thanks to you both for your urgent prayer support.
B S Lubana (Canada)
Dear brother/sister,
Greetings in Jesus' name. I am grateful to you for your prayer support regarding my theological studies. By the grace of God I could finish 6 years of ministry in J&K. Hence I got the study leave from UESI to go for theological studies.
By the grace of God I got admission at Fuller Theological Seminary, M Div program; Dallas Theological Seminary, Texas for Th M program and Regent College, Vancouver, for M Div program for the academic year 2012-13.
Bro. Madhusudan (India)
Dear Brother Bhupinder & Sister Mona
In Christ I and my family have been blessed from your prayers. We will be happy if you both come to skipe. We are waitimg for you.
Thank you and God Bless you
Pastor Arthur Cocker (India)
Dear friends and family at His e-Prayer House,
Thank you for your Blessed encouragement! We give Him praise and thanks for His Loving Mercy. Below is an email from Larry on the latest. It is truly amazing that Pat was able to speak just a couple of hours after the surgery, and is back at home within 4 hours of surgery. Surely this is the Lord's Strength at work within in her. Will keep you posted. Meanwhile, please share this blessed news with your prayer team, and pass on our heartfelt thanks for their intercession.
In Jesus' Love
Sis. Susanna (Canada)
Dear Brother-in-Christ
How are you and sister? Convey my regards.
Brother, now I got a work in a private hospital in Erode.
It's very nice work for me.
Thanking you for your kind prayers. Four months back I had no work in my place.
My family members are very affected. I thank Jesus and you.
My family members are waiting for you. My work is going smoothly.
Once again I thank you for your kind prayer.
Bro. Prabhu (India)
Dear Brother-in-Christ,
It is inform you that Suresh Kumar (Prayed for by your prayer partners) started attending office from the day, the prayer request was made. He had not attended office from last four months before the prayer request was made. However, he claims of still having the neck pain. But to me, I praised God through our Lord at his started attending office from the day the prayer request was made.
Thanks
With KIND Regards and in His Holy Name
Bro Neeraj (India)
Dear brother Bhupinderji and Monaji,
This is to inform you that brother Binoy is out of hospital and his blood count is increased to the required number. Praise the Lord !
I do thank you brother Bhupinderji and sister Monaji for your wonderful ministry of prayers. All gloryy to our good Lord ! Also we all say thank you to everyone who prayed for brother Binoy`s healing.
Please also continue to pray for the hospital bill which Rs 8000:00 (eight thousand rupees). Please remember this urgen need.
Thank you very much and we love you so dearly and pray for you daily.
Indeed yours in His service
Pastor Sharad and Prema (India)
Dear Bro. Bhupinder & Sis Mona
Greetings to you in Jesus name. I had sent a prayer request earlier for my nephew Nathaniel.
The fever left him in a day or two. Now he is keeping good health.
Thank you and all the prayer partners for the sincere prayers.
God bless your ministry.
Bro Arun (USA)
Dear friends, Its with such great joy and gratitude that I send this mail across to you. If you remember, last year on this very day I met with a terrible motor accident resulting in a severe Head injury, rushed to Bangalore and was almost given up by the Doctors, but the great physician our Lord Jesus never gave up on me. Praise God. When the doctors said it might take 6-9 months for recovery and that too no guarantee, even if by chance I recover they said I can suffer from loss of memory, speech, vision and even one side can be paralysed, but you my friend r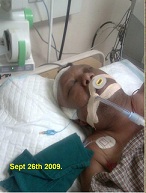 efused to accept the doctors report and stormed heaven for me along with millions who prayed all over the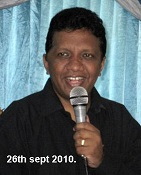 world and in just 21 days was restored to normalcy and discharged from the Hospital. Started driving my four wheeler in 2 months, preaching in 3 months, travelling in 5 months and this year two visits abroad, two miracle crusades in Maharashtra. God has been good.
This is just to thank you and appreciate all that you have done for me and my family during the times when we were hard hit last year on account of the accident. Heaven smiles on you and great shall be your reward. As a family, we appreciate you and thank you a lot and pray often for His blessings on your life.
I am sending a photo of how I was soon after the surgery,and how I am today so that you can join me in sending praises to heaven for His miracle in my life.
With much love and prayers
Blessings.
In Him,
Bro Ganesh (India)
Dear Bro. Bhupinder & Mona Didi,
I have a great praise report, by Grace of our Lord Jesus, my Mom is healed & for the last five & a half months she had no seizures. Thanks so much for your precious prayers. All glory to His mighty & powerful name.
May the Lord richly bless you for the labor you are doing for His kingdom. Regards & blessings in Jesus miraculous name.
Ruchi Pannu (Canada)
Dear brother and sister, Greetings in the name of our savior Lord Jesus Christ.
I sent you a prayer request last satureday. It's a praise report now, Suneel is totaly healed now He can eat and drink by mouth. It's a great blessing of Lord Jesus. God bless you all
Ather Javed (Pakistan)
With joy and a heart full of thanksgiving to our Lord Jesus Christ, I am writing to share a praise report about our dear Bro.Ganesh.
Between Saturday night and and Sunday, Ganesh has shown a miraculous recovery. He has been able to swallow, see, recognise and even talk. None of which he could do previously. In fact he has shown a sense of taste too.
One more time we have seen the miraculous and wonder working power of our dear Lord. Praise be to God our Father.
A sincere thank you to each one of you. God bless you all.
Olivia (Canada)
Greetings, I hope you are very well. We are now quite well. Our problems are decreasing and hope these will all be finished.
Thanks and keep praying for us.
Kashif (Pakistan)
Pastor, I wanted to give you a praise report that I got 3 million dollars in my stocks. And also new teeth started regrowing in place of my damaged and surgical teeth. All my prayers are being answered. I am growing taller and my facial features and nose are getting sharp
Thank you for your prayers.
Dan (USA)
Hi Pastor,
This is a praise report. I am growing in height. I am also growing thicker hair on my head. the hair loss has reduced considerably. my nose and facial features are also growing sharp.
Please continue to pray that I will become 6'2", with longer proportional legs.
Please pass this praise report and prayer requests to your sunday school children and prayer partners around the world.
Dan (USA)
Praise the Lord, Now all glory to God, who is able, through his mighty power at work within us, to accomplish infinitely more than we might ask or think. (Ephesians 3:20)
I thank you so much with all my heart and soul for praying for my neice. Our mighty God has answered our prayer and God has blessed her the desires of her heart. She has conceived after 2 years of her marriage.
May God bless you always
In Christ
Mala
Thanks for praying for job for my brother Wilson !!
God willing he will be joining a new organisation by November end.
I am grateful for your prayers. My humble thanks to you.
Johnsom Varghese (India)
This is a joyful update to let you know that Martha is now free from jail and back home in Gurdaspur, Punjab. Praise the Lord!
More than 75 people prayed with her to accept salvation in Jesus Christ as she ministered behind the walls to hurting and needy people in two separate locations.
Martha is so deeply thankful to all who have been praying for her during this dificult time. We rejoice together in her release!
Bryan Sexaur (USA)
Praise the Lord
I thank you Lord with all my heart and soul for answering our prayers. I wrote a prayer request to "HIS Prayer House" about my daughter looking for a job. This week God answered the prayer and she got a job. God is good all the times .I praise and thank God for his favour and his unfailing love for us.
Thank you Lord and praise you Lord all the times.
In Jesus Christ
Mala
Dear Brotherr,
Praise report: We had sent a prayer request for purchase of house or land and had asked Lord Jesus to provide us the funds.
And Lord Jesus listen our prayer request and we have received marvelously Rs. 3,00,000/- . We ALL give honor, glory and praise to Lord Jesus
Glory Dias (India)
Dear Brothers and sisters in Christ,
A few months ago I was so depressed about my present job situation. That time I sent an email to you to pray for me to get a better job. God has blessed me with a very good job in a new place. Thank you so much for your prayers.
Love
Immanuel (U K)
Bear brother & sister, I am delighted to share the news that my cousin Kulwinder Singh (who is in New York and who had suffered a brain hemorrhage) had undergoe a surgery on Mar 10, 2008. Surgery was successful. He is hale & hearty now. Thank you Lord for listenng to our prayers !!. Thanks to "His Prayer House" prayer team for their urgent prayers at such a short notice.
B S Lubana (Canada)
Just wanted to share some good news - great to get some good news heh! We must say that we are so thankful to you for your prayers and for God's answer to (it appears) heal Amar.
We were at the hospital this morning and for the third week Amar has not had a transfusion. What that means is that his platelets count has been steady and so has his hemoglobin. That may mean that his bone morrow is starting to reproduce blood cells and so the medication seems to be working.
All in all he does seem to be having more strength and is also fighting the cold & cough that I gave him - oops :( but rejoice along with us and ccontinue to pray for our desire to plant a church here in Toronto and as we raise supporters to come along with us to see His kingdom come.
Thank God.
Love
Sunil Kapoor (Canada)
Hello To everyone!!!
Hi, how are you. Sorry for responding late but I was busy with my exams. Brother, you remember, I told you about the boy ..muslim who was in problems and almost went to jail? Well God answered the prayers ..he is free..but still with this freedom he did not recognized that it was Jesus who saved him..but anyhow ..thank you.. Pleases continue to pray for my mom. Be blessed.
Mary (Romania)
Brother, there definitely have been changes in my situation, but more prayers are needed for complete deliverance. So please continue to pray for me. Thanks for your prayers.
Christa (India)
Miracle in the life of 5 years' old Hanna
"For we do not present our supplication before thee for our righteousness but for thy great mercies".
On January 10th, 2007 we were shocked when we took our 5 yearr, old daughter Hanna to Dermatogist for opinion on her hair fall, which were falling in patches. Dermatoligist told us,"She will loose all her hair and there is no cure for that." We were disheartened on hearing these words, we both looked at each other and said this can't be true, our God is a living God and he answers prayers. After dropping family, I went to Drug store to fill the prescription. While, I was waiting in the waiting area many train of thoughts were going in my mind. Then a strange thing happened. I saw a lady walking through the isle and she was wearing a Hair Piece. I immediately said to himself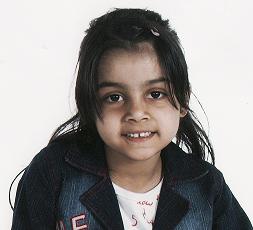 no this can't happen to my daughter. I rebuked the devil and covered my daughter Hanna in the blood of Jesus. Devil tries to deceive us when we put our faith in Jesus. To my surprise when I got up to look, lady had disappeared…. When I reached home, my wife was on the phone praying with Benny Hinn ministries, I sat beside her and we prayed together. I told her what I saw and she said this will not happen to us. Since that day we started praying hard.
This problem started when we were visiting India in October 2006. We did not take Hanna's hair falling seriously, we thought this is just due to change of climate but later we took her to Christian Medical Hospital and were told to give steroids; we said no we will pray.
On relatives advice we took her to barber for allopathic treatment in India. That was strong medicine; which burnt her skull, it dripped on her neck and burned her neck to. She needed dressing twice a day. She would cry with excruciating pain when we changed dressing. Every time Hanna cried, our heart cried to the lord, "Lord have mercy not for us but for your name. O Lord heal Hanna, we carry your name".
When we came back from India, Hanna was still loosing hair, we started fasting, We got this verse which came as confirmation - Zacharia 8;19 "Thus saith the Lord of host the fast of the fourth month and fast of the fifth and the fast of seventh and the fast of the tenth shall be to the house of Judah joy and gladness and cheerful feasts". More scriptures came to us. Daniel 10;12 "Then said he unto me fear not Daniel for the first day thou didst set thine heart to understand and chasten thyself before thy God, thy words were heard and I am come for thy words."
When we all prayed, Hanna prayed as well. She would take my praying hands over her head, "Jesus heal me, Give me my hair". God spoke to me through Daniel 10; 13 "But the prince of kingdom of Persia with stood me one and twenty days but lo, I Michael one of the chief princes, came to help me,------------.not by might not by power but my spirit saith the lord, these mountains shall be removed." I sprayed , "We give this matter in your hand I can't do it". I started to relax and rest in the Lord. After I fasted for twenty one days, I had a dream that night that Hanna was bleeding from her heal and blood changes to clear water and I am squeezing her heal I was clear water. When I woke up in the morning I told Sunil, to be careful of Hanna then I prayed about it, Holy Spirit told me its all clear now.
Praise God, All glory to the Lord Jesus Christ. Our daughter Hanna is since healed. Her hair started growing; all the patches are covered with new hair. PRAISE THE LORD! Nothing is impossible with GOD. Our GOD is a living GOD. He said "Ask and it shall be given to you". We thank all the family members, friends and our church congregation who prayed and fasted with us. Thank you, Lord.
Mrs. & Mr. Sunil Peters (Canada)