Earnest Mall
Bro Ernest Mall d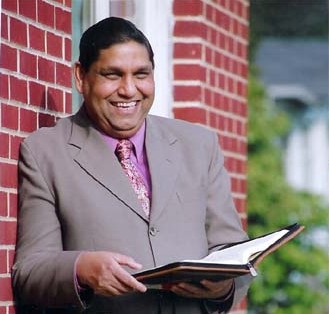 oes not need any introduction. If you like to listen Christian worship music in Urdu, Hindi & Punjabi, you already know him. I am his big fan since long and has been listening to his music.
During his 2005 Annual Musical Healing Crusade at Toronto, we had the amazing experience of listening him in person. Since then, it has been our practice to attend these annual musical healing crusades all three days from start to end.
Bro Ernest Mall pastors a church in Philadelphia, USA.
I have almost all of his music in my personal collection and find it difficult to decide which one to post here.
Please bear with me as I post more of his music.
"His Prayer House" is deeply sad to share this news with you that Bro Ernest Mall, has gone to be with the Lord. He passed away on July 14, 2008 evening due to a heart attack.
Pastor Ernest Mall was known world-wide. God blessed him with an enormous amount of talent.
In 1986, he left the world of secular music to glorify the name of our Lord. He dedicated his musical abilities and gifts to serve the Lord and to spread the message of Cross around the globe.
His melodious voice and music won numerous souls and brought people to Christ. In addition to being an Evangelist, he was the Pastor of Morning Star Church in Philadelphia.
We, at "His Prayer House", pray for his wife Edwina, his daughter Monica and his entire family in this time of grief.
His memories will remain with us through his music.
Chhoo Mujhey Choo, Khuda Rooh Mujhey Chhoo

Paak Rooh Hum Yesu Ke Pyase Hain

Tere Lahoo Ke Vasile, Ho Gaye Paap Shama

Yadein Jab Satayein, Yeshu Ko Yaad Karna

Yeshu Raja Rahta Hai
Tere Maar Khane Se, Yeshu Maine Shifa Payi Hai