Sarfraz William
Bro Sarfraz William is a well-known worshi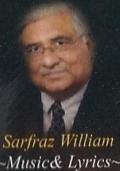 p music director and lyricist. He has released a number of worship albums in the past: Saleeb, Rah-E-Saleeb, Pukaar, I Lift Up My Eyes and Tu Hi Hai Bus.
He is based in USA. He has also released a worship music CD in Punjabi called "GAJRA". Following songs are from this CD. These songs are rendered in the melodious voice of Niazi brother - Javaid and Babar. They are based in Pakistan.
This project was supported by Vinod Williams as advisor.
I am confident you will like the touching lyrics of the songs that come out of the powerful pen of Bro Sarfraz. The pain of a broken heart and contrite spirit and his love for the beloved Jesus is clearly evident in these lyrics.
Mere Malik Mere Rabba, Khayalan Vich Tu Rehna E


Aaja Aaja Aaja Aaja, Mainu Aake Yesu Lai Ja


Pakhiya Eh Chithi Mere Yesu Tak Lai Javin


Akhiyan Chukna Haan Main Val Paharaan


Sunjhe Vehre Phera marin Nasariya