Kadambari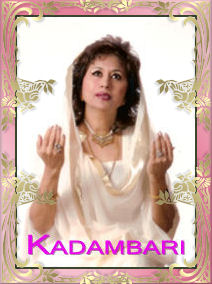 Kadambari hails from a elite Hindu family.She is a former Bollywood Film producer and singer. She was also the proprietress of a Textile Company. In the tragic year of 1993 her life was shattered completely. She cried her heart out but none of her gods came to her rescue.
It was at that moment Jesus came into her life. She accepted the Lord as her Savior and consecrated her life to serve Him. Soon things changed.The Lord blessed her to be His humble servant.
He opened the doors for her to take the word through Gospel concerts to different parts of the world. Her anointed melodious voice touched the hearts of thousands around the Nations. Many gave their life to the Lord being inspired by her testimony.
Her goal and aim today is to spread the word of God to the unreached and poor around the world. She has many Albums to her credit. Her Ministry is registered as a non profit organization. To know more about the miracles of Lord in her life you can visit her website: www.kadambariconcert.com
To read her detailed testimony, please Click Here
Na Mumkin Ko Mumkin Tune Kiya Hai